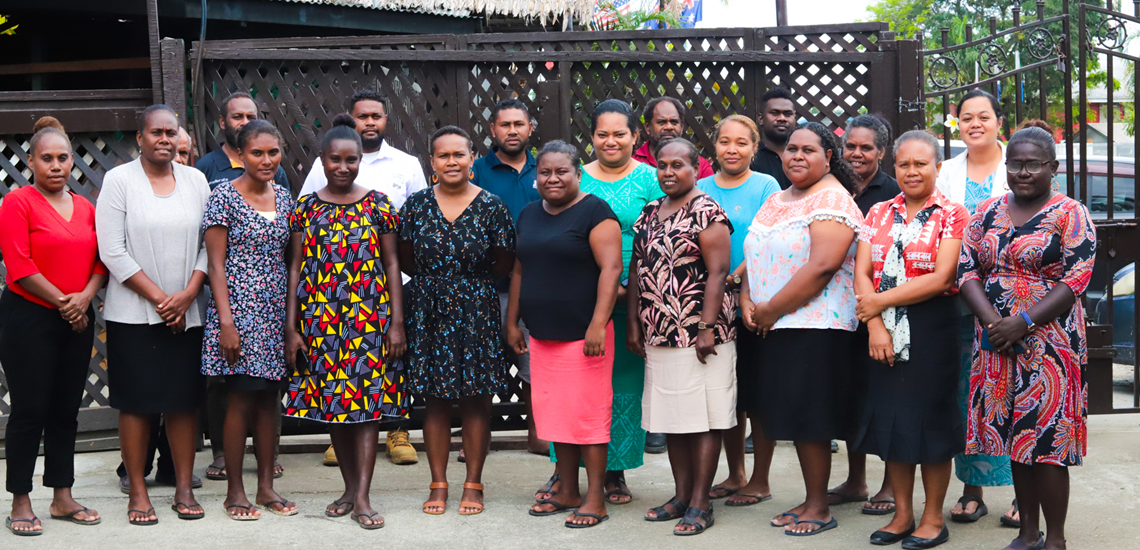 Officials and stakeholders who attend the consultation
Monday 25th September 2023, Honiara – Representatives from the private Sector in Solomon Islands have given their full support behind the idea of establishing an ARFD system in the country.
Advanced Recovery Fee & Deposit Systems (ARFDs) are legislative instruments designed to create a way to sustainably finance waste management and recycling.
And, representatives from private sector made their position known during the ARFDs consultation on 21st September 2023.
Speaking during the consultation, Deputy Director – Environment and Conservation Division, Ministry of Environment, Climate Change, Disaster Management and Meteorology (MECDM), Debra Kereseka said Solomon Islands is among 14 other Pacific countries who are part of the Pacwaste Plus programme and is looking at developing a sustainable financing waste management system that suits the country.
She said, "Pacwaste Plus Programme is fully funded by European Union and implemented by the Secretariat of the Pacific Regional Environment Program (SPREP). It is a 72-month program aimed to improve regional management of waste and pollution sustainably and cost-effectively.
She said, the overall objective of PacWastePlus is to generate improved economic, social, health and environmental benefits arising from stronger regional economic integration and the sustainable management of neutral resources and the environment.
Ms. Kereseka said specific objective is to ensure the safe and sustainable management of waste with due regards for the conservation of biodiversity, health and wellbeing of Pacific Island communities and climate change mitigation as well as adaptation requirements.
"For Solomon Islands, the program will help us eliminate litter, save critical landfill space, generate revenue, improve waste management, support recycling businesses and encourage recycling," she said.
Ms. Kereseka said information gathered from the consultation will determine the next phase of the introduction of the ARFD system in the country.
She said there will be more consultations followed which includes drafting of an ARFD legislation to legally administer and delegate specific actions to safeguard the implementation of the proposed system.
Ms. Kereseka acknowledged the private sector, representatives from government ministries who attended the consultation.
She also acknowledged SPREP through the Pacwaste Plus Programme for both the technical and financial support provided to the Ministry.
"Your inputs will help us develop a sustainable financing waste management system for our country," Ms. Kereseka said.
Solomon Islands Chamber of Commerce & Industry
1st Floor, Suite 213, Hyundai Mall,
Central Honiara,
P.O.Box 650,
Honiara,
Solomon Islands
T: (+677) 39542
T: (+677) 39543
F: (+677) 39544
E: services@solomonchamber.com.sb