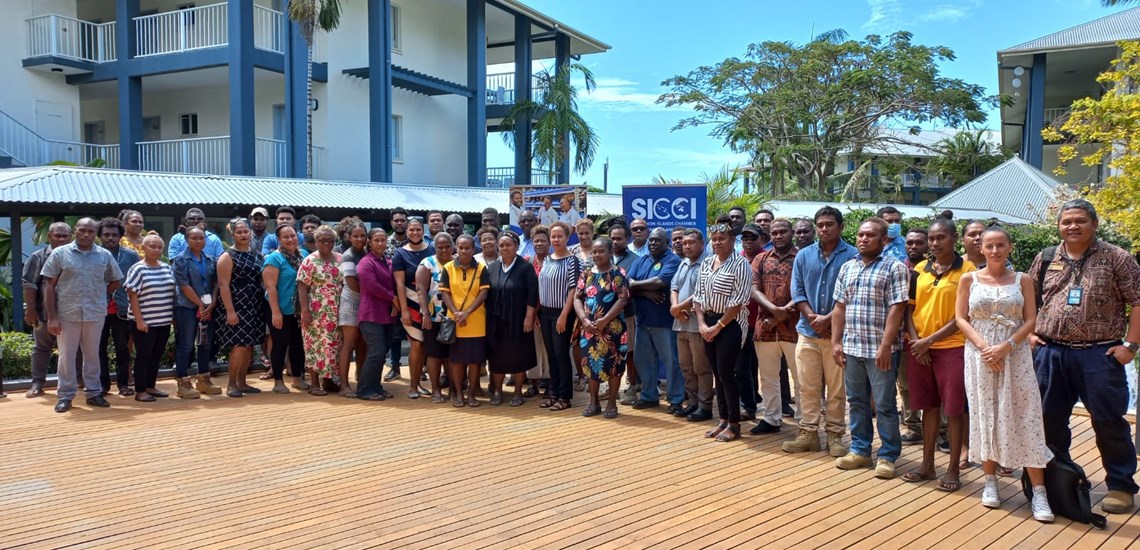 With the start of the new year, the Solomon Islands Chamber of Commerce and Industry (SICCI) has resumed operations for 2023 as it continues to strive to achieve its vision for a vibrant private sector, leading to better lives for our people.
SICCI acknowledges that the support of if members of the business community remain crucial to the work the Chamber does in representing the private sector in Solomon Islands.
As such, the SICCI Secretariat wishes to remind its financial members last year 2022 that membership fees are currently due.
"We urge our members to renew their membership to stay connected with the Chamber's events and training opportunities. SICCI offers a professional events management service using a wide network of businesses. We bring you popular SICCI events such as the Business Breakfasts, Information Sessions, Business After 5 Networking Events and our renowned annual Business Excellence Awards.
"Members can benefit from accessing our trainings on certain business topics such as leadership, planning, productivity, management and marketing," SICCI Membership and Services Officer, Simaema Neilsen, said.
"SICCI will continue offering value adding services for members in 2023 including networking, information sessions, timely and relevant distribution of information, trainings and more. So please get in touch with us at the Secretariat for renewals," she added.
SICCI has grown to over 220 members end of last year 2022, with a reputation as a growing local organisation that speaks with one voice for private sector but also growing a business community that genuinely wants to contribute to the development of Solomon Islands.
Registration is also open to new members and SICCI is encouraging small businesses and members of the business community who are not yet members to join the Chamber to be part of an organization that continues to provide collective representation with Government, workshops, seminars, and the chance to participate in creating a conducive business environment, among other things.
SICCI Chief Executive Officer, Natalina Hong said a key benefit of Chamber membership "is the voice that is dedicated to overcoming impediments to doing business in the Solomon Islands."
 "We know most business people are busy attending to their own companies, so we work on their behalf. We work hand in hand to promote business interests. Most importantly, we know the answer lies in our membership," she added.
She said it is critical to bring in new members.
"Chamber membership enables individuals to accomplish work collectively that might be impossible on an individual approach. The Chamber involves itself in the economic issues affecting the community, including active participation in different boards that relates to business concerns," the CEO said.
Besides having a collective voice and access to workshops and trainings that help improve business operations, Chamber members can also choose from the different Chamber events build their business network.
SICCI is looking forward to two major events for 2023. These are the Business Excellence Awards (BEA) along with two key events, the Manufacturing Policy Symposium and the Australian Solomon Islands Business Forum in Brisbane which is reactivated after two years.
The Chamber's flagship events like the Directorship programs and other trainings, networking events, advocacy through MoUs, communications platform, are becoming annual activities for SICCI and that will continue.
SICCI will be hosting it's first BA5 for the year on Friday 20th January 2023 where members will be updated on the Chamber's plans and updates for the new year. We welcome our members and partners to attend.
The SICCI secretariate remains as it continues to grow in confidence and skills as a professional team.
The SICCI Secretariat can be reached at 677 39542 or email services@solomonchamber.com.sb 
Solomon Islands Chamber of Commerce & Industry
1st Floor, Suite 213, Hyundai Mall,
Central Honiara,
P.O.Box 650,
Honiara,
Solomon Islands
T: (+677) 39542
T: (+677) 39543
F: (+677) 39544
E: services@solomonchamber.com.sb