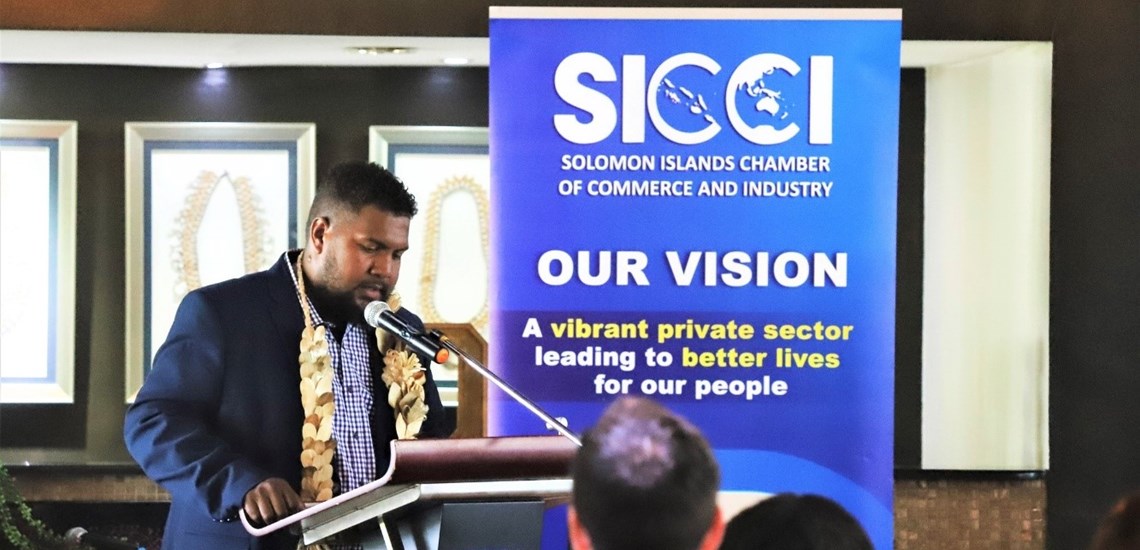 SICCI Board Chairman, Ricky Fuo'o says SICCI welcomes the assurance given by the Democratic Coalition Government for Change (DCGA) of a recovery package for businesses badly affected by the 2021 riots.
The Solomon Islands Chamber of Commerce and Industry (SICCI), as the peak body representing private sector, welcomes the assurance given by the government for a recovery package for businesses badly affected by the 2021 riots.
SICCI Board Chairman, Mr. Ricky Fuo'o said "this will provide hope for many businesses that have had their properties and businesses looted, destroyed, and burnt down and how they will get through the challenges faced."
The SICCI Chairman was speaking after during the recent Prime Minister's Breakfast event, an initiative under the MoU between Government and the private sector which presents the opportunity for SICCI members to engage directly with the country's leadership and creates a platform for the Prime Minister engage to directly with taxpayers.
Delivering the keynote address at the event, Prime Minister Hon Manasseh Sogavare reassured that Government have agreed to allocate $200 Million as recovery package post-riot 2021.
The amount is appropriated under the 2022 budget (125M) and 2023 budget (75M).
"On top of the grant support, the government is offering limited duty and tax exemption on imports of materials and goods that go towards business recovery. The other element of support for recovery is a concessional lending product through the DBSI," the Prime Minister explained.
"This is to support SICCI property owners and retail sector to rebuild and recover from the impact of the riot.
"The Ministry of Finance and Treasury is currently lining up funding arrangement to quickly roll out assistance in the coming days. More assistance will go to affected businesses in the next few weeks," Prime Minister, Hon Sogavare, told businesses during the PM's Breakfast.
The recovery package will assist business houses to rebuild properties that were burned down in the November 2021 riots and recover the retail sector economy.
In response, Mr. Fuo'o said this is what the Chamber has been calling for on behalf of the business community, a forward-looking announcement that provides confidence for impacted businesses.
"This support will assist many businesses" and that it "will provide a much-needed lifeline given these same businesses are still also recovering from the impacts of COVID-19," he said.
He said, "This package will go a long way to support not only businesses but also ordinary Solomon Islanders whose livelihoods depend on these businesses staying operational and providing the much-needed employment."
In a recent survey conducted by SICCI highlighted that the unrest in November last year posed huge destruction to most businesses. Survey respondents indicated that the unrest causes huge reduction of sales due to burning and close down of business. This leads to decline purchasing power of customers. It also causes increased cost of goods in the shops and increased cost of labor, leading to incursion of extra excessive recurring costs.
Solomon Islands Chamber of Commerce & Industry
1st Floor, Suite 213, Hyundai Mall,
Central Honiara,
P.O.Box 650,
Honiara,
Solomon Islands
T: (+677) 39542
T: (+677) 39543
F: (+677) 39544
E: services@solomonchamber.com.sb