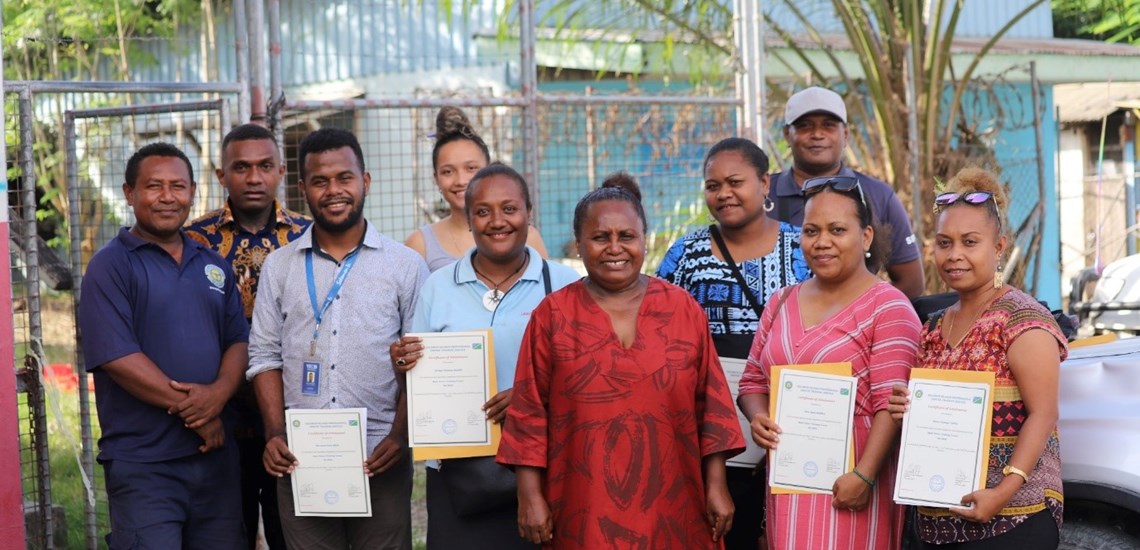 SIPDTS Managing Director, Joyce Lelau (Centre) here driving instructors at SIPDTS and employees who recently completed the Basic Driving Lesson Course.
Women representatives from Small Medium Enterprises (SMEs) will have the opportunity to undergo a Basic Driving Lesson Course thanks to a partnership between the Solomon Islands Chamber of Commerce and Industry (SICCI) and Strongim Binis, an Australian Government initiative.
Under this partnership, Strongim Bisnis is subsidizing 50% of driving lesson fees with SICCI member the Solomon Islands Professional Driver Training Services (SIPDTS) who will be offering the Basic Driving Lesson training.
This initiative is targeted at women from Small Medium Enterprises (SMEs) and is exclusively for SICCI members only.
SICCI currently has over 220 members as well as a number of affiliations to other national private sector organisations, covering approximately 80 percent of the Solomon Islands private sector workforce. Sixty (60) percent of the SICCI membership is made up of Small Medium Enterprises (SMEs) employing less than 20 employees.
SICCI Membership and Services Officer, Ms Simaema Neilsen said this initiative targets female staff or businesses owners from SMEs with less than 20 employees.
"This also includes affiliate members or organizations with less than 20 employees," she said.
Ms Neilsen said so far fifteen (15) members have registered to be part of the training but there is still space for a few more.
SIPDTS Managing Director, Joyce Lelau explains that the Basic Driver Training Course is for beginners (automatic Class C Vehicle).
"The training duration is two days and two weeks. Two days theory starts from 8 am to 3:30 pm normally on a Thursday and Friday leading to moving classes.
"The moving classes are done two hours daily until 20 driving hours are completed," she said.
Ms Lelau said after the theory and moving class sessions, SIPDTS will then coordinate with the Ministry of Infrastructure Development's Testing Division for final testing of participants.
"Through the partnership between SICCI, Strongim Bisnis and SIPDTS we are looking at enrolling up to 30 women from the Chamber membership to join this course.
"It's good to see both organization coming together to support this initiative that will also go a long way in supporting women in both their professional and personal lives," Ms Lelau said.
SIPDTS is one of the most established driving schools in Honiara, providing advanced, professional training aimed at producing well-rounded, responsible, and safe drivers with strong instincts on the road.
SICCI Chief Executive Officer (CEO), Ms Natalina Hong said the Chamber always looks forward to partner with members and stakeholders alike in supporting women empowerment in business.
"The private sector plays a vital role in the economic development of our country but as a Chamber, we also encourage everyone to play their role to create the right enabling environment to allow women grow in their respective roles and actively contribute to growing businesses.
"Empowering women through obtaining professional skills, such as driving skill, in our businesses and organization to fully participate in the workforce is inclusive and important because actively reducing unlevel field between men and women has significant impact on cost and enables productivity and growth.," the SICCI CEO said.
Solomon Islands Chamber of Commerce & Industry
1st Floor, Suite 213, Hyundai Mall,
Central Honiara,
P.O.Box 650,
Honiara,
Solomon Islands
T: (+677) 39542
T: (+677) 39543
F: (+677) 39544
E: services@solomonchamber.com.sb