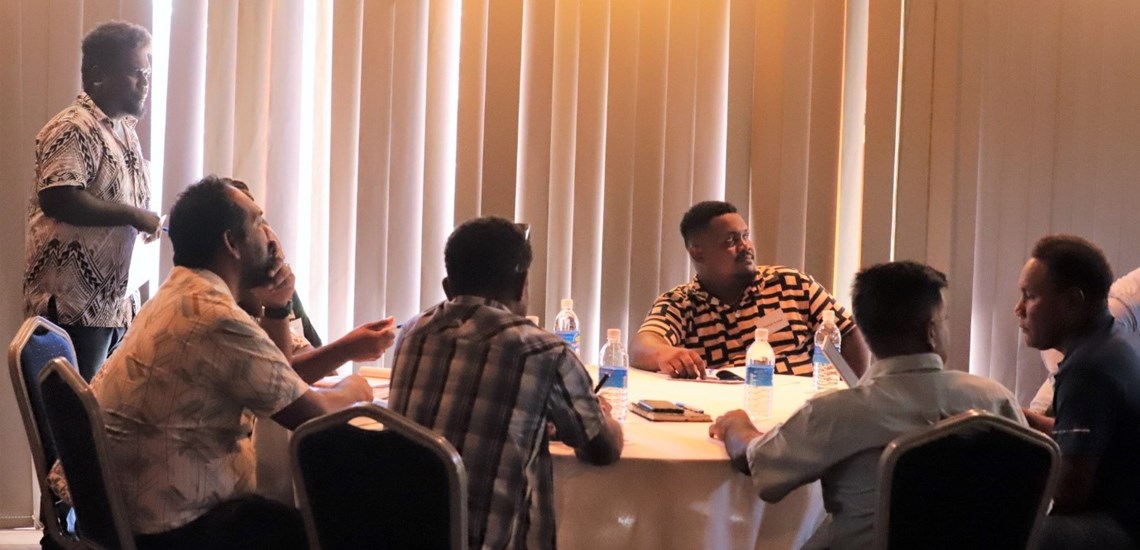 The Solomon Islands Chamber of Commerce and Industry (SICCI) through its Export Industry Development Department on 5th October to 6th October 2022 facilitated a two-day face-to-face Export Promotion Training for businesses in the Agribusiness Sector.
This was in partnership and collaboration with the USAID SCALE Trade and Investment (T&I) under its intervention activity to improve the facilitation of Trade and Investment in the Solomon Islands.
USAID SCALE Trade and Investment (T&I) planned and developed the Export Promotion inaugural training as part of a training series covering a number of targeted areas that have been identified in close coordination with SICCI.
The first Export Promotion Training focused on two main areas including Regional Trade Agreements and International Trade Finance and Payment Methods.
Export Industry Development Officer (EIDO) Mr Ronnie Golopitu, who oversees SICCIs Agribusiness sector activities, highlighted the importance of such training in adding value to the private sector moving forward particularly in the Agribusiness sector.
"It aims to support Solomon Islands agricultural exports through comprehensive training, particularly on export promotion efforts.
"During the training, participants learned the inclusive approach, way to participate and access trade-related activities across the agricultural value chains as well as create an environment where assistance is provided to targeted export companies and organizations," Mr Golopitu said.
Mr Golopitu said export businesses need to be well informed when it comes to Regional Trade Agreements and Trade Finance and Payments Methods.
"Given that exports to other countries are critical and need appropriate export documentation and Requirements that involve all parties in the trading business," he added.
More than thirty (30) participants mainly from exporting businesses, government officers, CEMA attended the training which was facilitated by Director of Global Trade Professionals Alliance (GTPA) Mrs. Collin Rex with the support from SCALE Trade and Investment Team and CBSI.
USAID Country Coordinator in the Solomon Islands, Mr William Pryor when speaking during the training said this is a series of training that will take place over the coming months and into 2023.
"By improving the business-enabling environment for increasing trade and investment and focusing on the exportation of agricultural goods, the Solomon Islands' private sector will be better placed for success.
"This inaugural training covered a variety of topics relating to Regional Trade Agreements and Trade Finance and Payments, such as how regional trade agreements can benefit Solomon Island exporters, and what kinds of financial instruments exist that facilitate trade," he said.
Mr Pryor said USA supports the private sector of the Solomon Islands in engaging in global markets and developing linkages between the Solomon Islands and abroad.
"This is one reason why we are excited to partner in hosting this inaugural training and over the upcoming months in future training sessions to strengthen the private sector in the Solomon Islands and promote the exportation of key agricultural commodities," he said.
Mr Pryor thanked SICCI for its continued cooperation and collaboration with the SCALE Activity on developing this training series, and the Chamber's dedication in promoting the Solomon Islands in the global market.
"We look forward to continued engagement and collaboration with the Solomon Islands' private sector as we all work together in building and sustaining a more free, open, prosperous, secure, and resilient Solomon Islands," he said.
Meanwhile, SICCI's Export Industry Development Officer, Mr Golopitu also acknowledged representatives of the Ministry of Foreign Affairs and External Trade and other Government agencies for their ongoing commitment to the Private Sector in terms of implementing Trade Agreements as shown clearly by  the officials who attended the two-day training.
"The knowledge on these trade agreements will not only benefit export businesses but will be shared with networks of rural farmers with the potential for increasing export production.
"As a Chamber, we continue to encourage rural farmers who are our members to be well informed on all export processes, more organized, think agribusiness and treat farming as a business," Mr Golopitu said.
Solomon Islands Chamber of Commerce & Industry
1st Floor, Suite 213, Hyundai Mall,
Central Honiara,
P.O.Box 650,
Honiara,
Solomon Islands
T: (+677) 39542
T: (+677) 39543
F: (+677) 39544
E: services@solomonchamber.com.sb