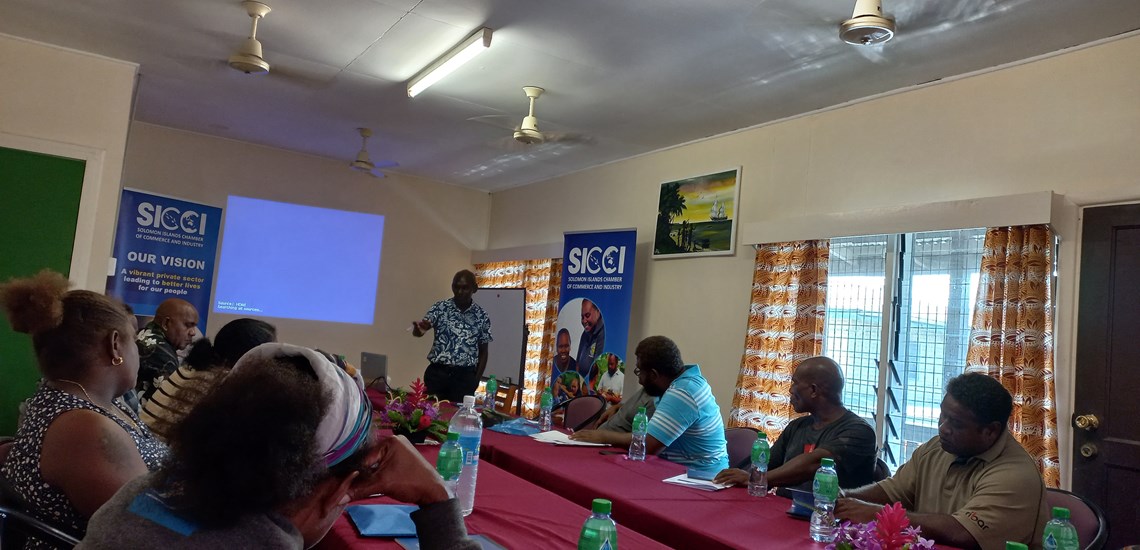 "Recording is very critical and important for without it I will not be able to see how my business is performing and my financial situation, whether I'm making a profit or a loss," says Jimmy Gau, a small business owner in Auki, Malaita Province.
Mr Gau was among business owners and business representatives in Auki who were the latest beneficiaries of the second Financial Literacy and Customer Services training delivered by the Solomon Islands Chamber of Commerce and Industry (SICCI).
He owns and operates Tee Gee Motors which is based in Auki.
"As a new business, this training was really helpful in terms of financial management, especially in forecasting and it really helped me as I go into business and look into finance and forecasting," Mr Gau said.
SICCI delivered the same training for businesses in Gizo, Western Province in September and like in Auki, it was delivered in partnership with the Solomon Islands Small Business Enterprise Centre (SISBEC).
Last week the two-day training was hosted at the Auki Gateway Lodge Conference room from the 12th to 13th October 2022.
Focusing on basic record keeping, financial management and customer services, this training need was identified after consultations with businesses in Auki who are members of SICCI.
SICCI Membership and Services Officer, Ms Simaema Neilsen, who is in charge of facilitating these trainings, said it is vital for businesses and to meet basic standards in order to successfully run and grow a business.
"By providing these trainings, SICCI is providing a very important service to businesses in the provinces that would otherwise be unable to access them," she said.
Like any other small locally owned business, Mr Gau said a real challenge is the profit loss and balance sheet.
"I must really know how to address this so I can manage my operations effectively. The training has really helped me in these areas, and I am looking forward to future trainings delivered by SICCI," he said.
Magret Wale Pauku, from KAYE Shop, is one of the SICCI members based in Auki and has attended trainings delivered by the Chamber in the past.
"It was a really good training, a good experience and a refresher for me since the last training SICCI held here in Auki," she said.
SICCI, as the peak body representing private sector, aims to extend its reach to the provinces in order to better represent the Solomon Islands private sector.
"It is important for SICCI to support and provide an avenue for rural based entrepreneurs to have access to trainings which will enable their businesses to grow," SICCI Membership and Services Officer, Ms Neilsen, said.
"Not only that, but to also be plugged into the Chamber network and work out from the different services and support we have going on four our members, which one will add value to their operations," she added.
Ultimately this meets the Chamber goal of contributing to economic development across the country, and not just in Honiara.
"This approach of taking value-added services to them is because businesses in the provinces often lack access to business networks and support systems as compared to businesses in Honiara."
Solomon Islands Chamber of Commerce & Industry
1st Floor, Suite 213, Hyundai Mall,
Central Honiara,
P.O.Box 650,
Honiara,
Solomon Islands
T: (+677) 39542
T: (+677) 39543
F: (+677) 39544
E: services@solomonchamber.com.sb