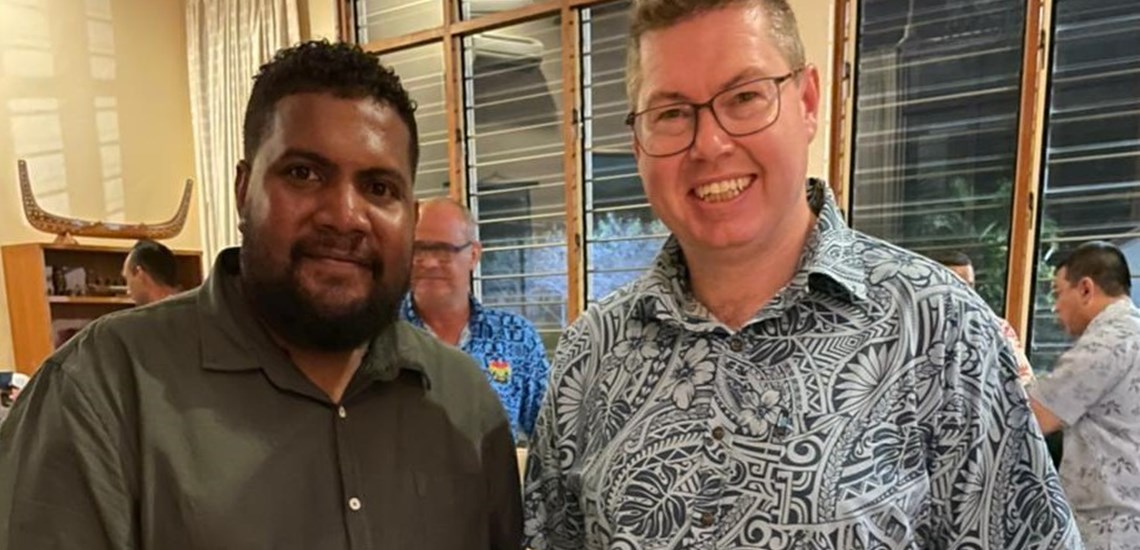 Hon Minister Pat Conroy, Australian High Commissioner to SI and Business Leaders at the Reception
15 August 2022- Around thirty local businesses and economic leaders in Honiara met the visiting Australian Minister for International Development and Pacific, and Minister for Defense Industry, Honorable Pat Conroy at the Australian High Commission residence hosted reception on Monday this week.
Chairman of the Solomon Islands Chamber of Commerce and Industry (SICCI), General Manager of Tropic Building Group, Ricky Fuoo, spoke on behalf of the businesses in response to the Minister's remarks on Australia's continuous support to the private sector development in Solomon Islands.
Chairman Fuoo begun by reflecting on the important lessons learnt from the border closure, and the significance of SICCI's partnerships, such as its one with Australia, that enabled timely and important support to Solomon Islands.
Chairman Fuoo said, "These two years have been testing to us all. We have not been immune to the impacts of the pandemic and closed borders. It tested our economy, and I know many of my colleagues have worked had to balance government revenue and expenditure.  There have been headwinds on revenue and tailwinds on expenditure – not easy waters to navigate."
"It has challenged our businesses and many of my fellow business leaders here tonight will agree economic slowdown, supply chain disruptions, and increased costs have weighed heavily on our shoulders causing many sleepless nights."
Recently, businesses welcomed the re-opening of the national border on 1 July 2022, with thanks to the Solomon Islands Government, initiating an easing of restrictions for business travel between Australia and Solomon Islands. As travel and economic activities start to pick up, this is providing some relief to local businesses.
"For the first time in two years all the major hotels accommodations in Honiara city have been booked out!" Chairman Fuoo said, referring to the recent 80th Anniversary of the Battle of Guadalcanal event that the Australian Minister's delegation had attended, along with hundreds of other visiting delegations from United States, New Zealand and Japan.
Australia's development support to the private sector in Solomon Islands, as well as in infrastructure, labour mobility and agri-business, has established a growing partnership with Australia and the businesses in Solomon Islands. 
Minister Conroy, in his brief remarks, highlighted Australia's commitment to supporting the expansion of labour mobility programs in various industries in Australia, and the promotion of local content in infrastructure development through its 10-year Solomon Islands Infrastructure Program (SIIP). These priorities were welcome news to guests in the audience, who appreciated that businesses would benefit from a skilled workforce and greater local returns to the economy in Solomon Islands.
Australia continues to be an important gateway to Solomon Islands, and the private sector has long seen the potential of being close neighbours.
"With borders between our two countries now open we look forward to welcoming more visitors in the future. As we look to travel to Australia for business, we also hope to see some easing of travel requirements that can cumbersome and restrictive."
Looking to the future Chairman Fuoo said, "The trade and travel relationship [between Australian and Solomon Islands] is in my opinion sometimes undervalued. We have real opportunities to further strengthen our bilateral, social and economic relationship as it's only a three-hour flight from Brisbane to Honiara and there are direct shipping routes between our two countries."
SICCI signed the Memorandum of Understanding with the Australia Pacific Islands Business Council (APIBC) in 2021 and is looking forward to hosting the Australia Business Forum soon, which will discuss investment issues and opportunities for both countries.
Thanking the Australian High Commissioner, His Excellency Dr Lachlan Strahan for hosting the reception, Chairman Fuoo looks forward to working closely with Australian high Commission team as well as the Solomon Islands Government to growing the sector.
Business members who attended were able to interact with the Australian Minister, representing a diverse industries and businesses, including the construction, manufacturing, banking and finance, agriculture and export sectors, and State-Owned Enterprises. 
//END
SICCI MEDIA
Solomon Islands Chamber of Commerce & Industry
1st Floor, Suite 213, Hyundai Mall,
Central Honiara,
P.O.Box 650,
Honiara,
Solomon Islands
T: (+677) 39542
T: (+677) 39543
F: (+677) 39544
E: services@solomonchamber.com.sb