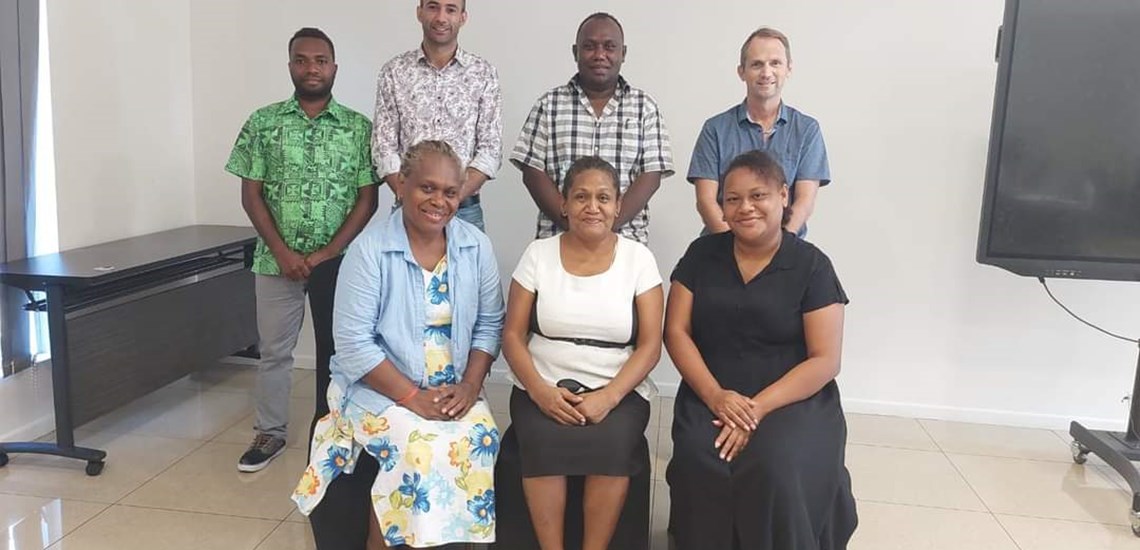 First meeting of the SICCI Building & Construction Working Group (BCWG) subcommittees on Thursday 4th August 2022.
The Building and Construction Working Group (BCWG) subcommittee of the Solomon Islands Chamber of Commerce and Industry (SICCI) convey their first meeting on Thursday 4th August 2022 at Heritage Park Hotel.
The working group comprising mainly of private sector representatives is chaired by Daniel Tucker, Country Manager at Kramer Ausenco (SI) Ltd who was appointed by majority votes. The other subcommittees are; Flori Gatu, Local Construction Industry Consultants at GW Associates Group Pty Ltd, Kathy Nori, Director/Manager at Nofokava Construction Ltd, Namoi Kulae, Manager Adkonect & Pacifictenders.com, Brian Murray, Construction Manager at Reeves International, Charles Sisimia, Manager at CV Vision Management Consultancy Limited and Cyril Rachman, Civil Engineer Lecturer at Solomon Islands National University (SINU).
The subcommittees of the BCWG were appointed by SICCI Board. The purpose of the BCWG is to have in place a mechanism, composed of an identified group of stakeholders from industry to provide a platform for informed, expert discussions.
Although this meeting was their first one, the National Building Code Solomon Islands (NBCSI) and position papers were agreed upon as key focus for their term.
"The BCWG will provide a platform for informed, expert discussions to formulate SICCI positions on measures that can be considered by Government and development partners relevant to the building and construction industry," Mr Tucker said.
"Ms Flori Gatu says that the BCWG focus for 2022 is to work closely with the Ministry of Infrastructure Development (MID) to finalize the National Building Code to protect public health, safety and general welfare as they relate to the construction and occupancy of buildings and structures in Solomon Islands. The draft of National Building Code 2022 has been finalized and can be accessed on the MID webpage".
"National Building Code 2022 is still to be signed by the Minister upon passing of NBC Bill 2022," she told members.
Ms Namoi Kulae told members that she wants the working group to work hard to realise the SICCI Board's vision of quality, durable building infrastructure for the country.
"This expert working group will be a resource for government and partners in development to draw on when advancing and implementing policies impacting on national building and construction practices in Solomon Islands," he told members.
The Secretary to the BCWG, Elvis Bwa'a acknowledge members for rendering their interest to be part of this working group.
"This is an important working group for SICCI as it will work collaboratively with the government departments relevant to the construction and building industry to maintain long-term vision of the sustainable growth of the construction and building industry in Solomon Islands," he added.
Currently, meetings for the BCWG will happen once a month on the first Thursday of every month.
The Next meeting is scheduled for Thursday 6 September 2022.
Solomon Islands Chamber of Commerce & Industry
1st Floor, Suite 213, Hyundai Mall,
Central Honiara,
P.O.Box 650,
Honiara,
Solomon Islands
T: (+677) 39542
T: (+677) 39543
F: (+677) 39544
E: services@solomonchamber.com.sb