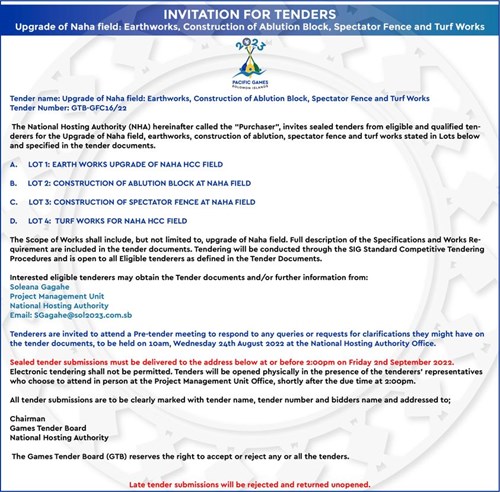 𝗜𝗡𝗩𝗜𝗧𝗔𝗧𝗜𝗢𝗡 𝗧𝗢 𝗧𝗘𝗡𝗗𝗘𝗥
TENDER NUMBER: GTB – GFC 16/22
PROJECT/CONTRACT NAME: Earthworks, Construction of Ablution Block, Spectator Fence and Turf Works.
LOT 1: Earth works upgrade of Naha HCC field
LOT 2: Construction of Ablution block at Naha Field
Lot 4: Turf works for Naha HCC field
The Scope of Works shall include, but not limited to, upgrade of Naha field. Full description of the Specifications and Works Requirement are included in the tender documents.
Interested eligible tenderers may obtain further information from
𝐏𝐫𝐨𝐣𝐞𝐜𝐭 𝐌𝐚𝐧𝐚𝐠𝐞𝐦𝐞𝐧𝐭 𝐔𝐧𝐢𝐭, 𝐏𝐚𝐜𝐢𝐟𝐢𝐜 𝐆𝐚𝐦𝐞𝐬 𝐎𝐟𝐟𝐢𝐜𝐞 𝐒𝐞𝐚𝐤𝐢𝐧𝐠 𝐁𝐮𝐢𝐥𝐝𝐢𝐧𝐠 or 𝐒𝐆𝐚𝐠𝐚𝐡𝐞@𝐬𝐨𝐥𝟐𝟎𝟐𝟑.𝐜𝐨𝐦.𝐬𝐛
Pre-Tender - 10am Wednesday 24th August 2022, NHA Office
𝐓𝐞𝐧𝐝𝐞𝐫 𝐜𝐥𝐨𝐬𝐞𝐬 - 𝐅𝐫𝐢𝐝𝐚𝐲 2nd September 𝟐𝟎𝟐𝟐 𝐚𝐭 𝐨𝐫 𝐛𝐞𝐟𝐨𝐫𝐞 𝟐𝐩𝐦
Sol2023 Games Organizing Committee
Sea King Building
P.O.B 2443
Honiara,
Solomon Islands
T: (+677) 42100
M: (+677) 7308800
E: info@sol2023.com.sb