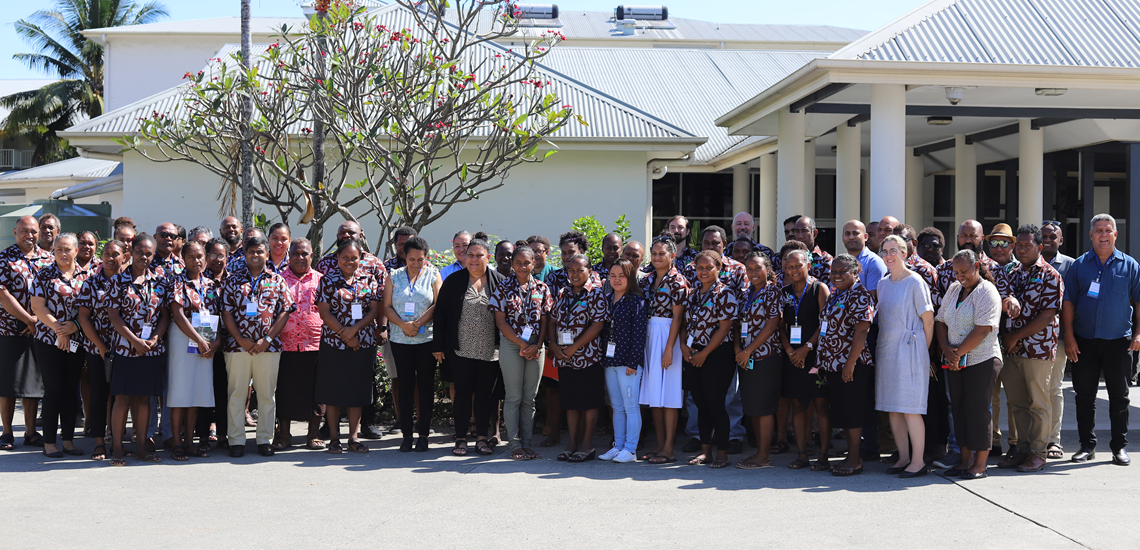 Officials and Participants after the official opening of the workshop
 August 28, Honiara, Solomon Islands –The Government of Solomon Islands and the Solomon Islands Chamber of Commerce and Industry will host the third Melanesia Sub-regional Private Sector Climate Finance Workshop in Honiara from 29-31 August.
This workshop is aimed at enhancing private sector contribution in building resilience through improving access to climate finance and strengthened public-private partnership. Representatives from the Government and the private sector in Fiji, Papua New Guinea, Solomon Islands and Vanuatu including regional and development partners and climate financing institutions will converge at the Heritage Park Hotel. During the meeting, regional participants will discuss opportunities for improved collaboration between the public and private sectors on climate finance coordination and access to resources to address the impacts of climate change on businesses.
The workshop will be officially opened by the Secretary Technical for the Ministry of Environment, Climate Change Disaster Management and Meteorology, Dr Chanel Iroi. Other senior officials who will have the opportunity to provide remarks during the opening include the Deputy Secretary General of the Pacific Islands Forum, Mr Esala Nayasi and the Chairperson of the Solomon Islands Chamber of Commerce and Industry Board, Ms Qila Tuhanuku.   
This is a regional initiative and co-hosted by the Government of Solomon Islands, Solomon Islands Chamber of Commerce and Industry, Pacific Islands Forum, and supported by partners to improve engagement of the private sector with the government and key stakeholders in climate finance.
The three-day workshop will end with a tree planting programme organised by the Department of Climate Change and the Ministry of Finance and Treasury.  
The workshop is made possible with funding support from the Intra African Caribbean and Pacific (ACP) Global Climate Change Alliance Plus (GCCA+) Pacific Adaptation to Climate Change and Resilience Building (PACRES) Project.
Solomon Islands Chamber of Commerce & Industry
1st Floor, Suite 213, Hyundai Mall,
Central Honiara,
P.O.Box 650,
Honiara,
Solomon Islands
T: (+677) 39542
T: (+677) 39543
F: (+677) 39544
E: services@solomonchamber.com.sb