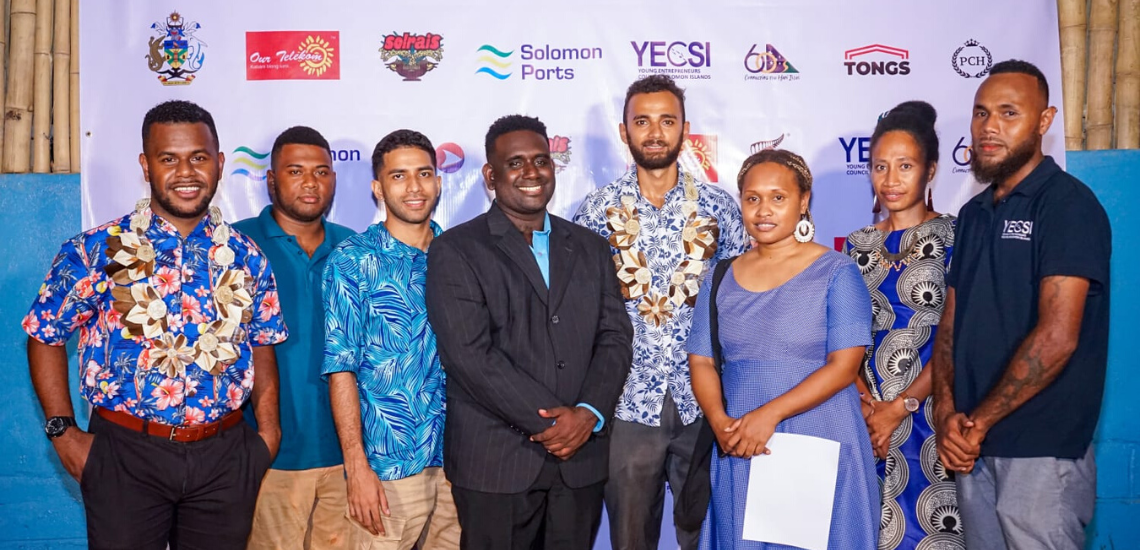 The Current Young Entrepreneurs Council Solomon Islands Board Members and Secretariat. (missing in the photo is Gloria Konare)
The Solomon Islands Chamber of Commerce and Industry (SICCI) acknowledges the Young Entrepreneurs Council of Solomon Islands (YECSI) for recognising the contribution of young entrepreneurs to the country's economy.
SICCI made the acknowledgment while congratulating YECSI in successfully hosting its first ever Awards night on Thursday 17th November in Honiara.
"A massive congratulations to all the award winners. Well done YECSI Board, Secretariate and Members for hosting a successful inaugural YECSI Award Event. We look forward to our ongoing partnership to support and celebrate the achievements and growth of all our young entrepreneurs," a SICCI statement said.
The awards event is mainly to appreciate and recognize the contribution of young entrepreneurs to the socio-economic development of the country and to celebrate the growth and journey of the members of YECSI.
YECSI Awarded the four winners as: KMJ Baby Care-Malika Enterprise as the most Committed Entrepreneur of the Year, Kava Haus Solomon as the most Improved Male Entrepreneur of the year, Lokol Impact as the Most Improved Female Entrepreneur of the Year, and the Most Innovative Entrepreneur of the year RISC-Girls Club.
The Prime Minister Award was given to the YECSI's Young Entrepreneur of the Year - Reveal Pasifik.
YECSI was founded in 2017 based on the belief that youths can be a positive driving force in Solomon Islands' development if they are given opportunities to do so.
To ensure the effectiveness of YECSI, an innovative Public Private Partnership (PPP) was forged between the Government and SICCI which led to the formal establishment of the Young Entrepreneurs Council Solomon Islands (YECSI).
"Advocating for entrepreneurship as an alternative employment option for people between the ages of 18-40 years of age, YECSI continues to support, connect, and bridge young Solomon Islands entrepreneurs.
"YECSI continues to advocate for young entrepreneurs throughout the country through strategic partnerships will international organisations, local corporates and businesses as well as business experts who volunteer their time and expertise to train, motivate and mentor YECSI's growing number of young entrepreneurs. YECSI also liaises with the Government on policy issues related to young entrepreneurs, through an Advisory Committee chaired by SICCI," the statement added.
Solomon Islands Chamber of Commerce & Industry
1st Floor, Suite 213, Hyundai Mall,
Central Honiara,
P.O.Box 650,
Honiara,
Solomon Islands
T: (+677) 39542
T: (+677) 39543
F: (+677) 39544
E: services@solomonchamber.com.sb