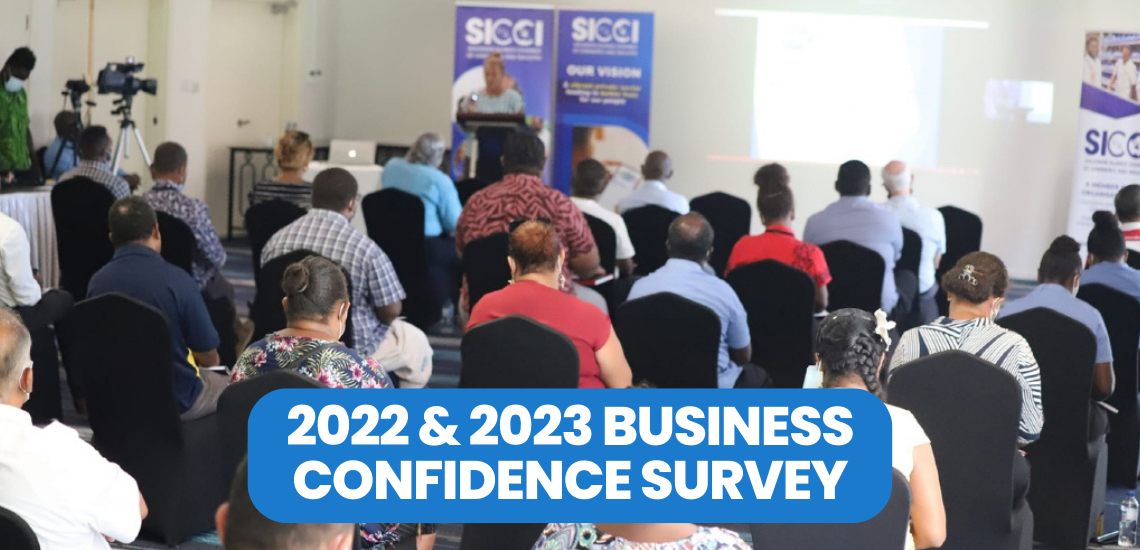 Business confidence in many areas of the economy is expected to improve, a new survey has indicated.
The Solomon Islands Chamber of Commerce and Industry (SICCI) 2022 Business Confidence Survey suggests that most businesses (60%) expect their general business situation to improve in nine months' time. 
29% of respondents to the survey expect their business situation to remain the same while 12% believe it will deteriorate.
The 2022 Business Confidence Survey was conducted online with 111 members (50% of total membership for 2022) of SICCI between 15th November 2022 and 2nd December 2022 and covered all the industry sectors and different business sizes based on the number of employees.
It intends to get results of the level of business confidence of general business situation in Solomon Islands in nine months' time, recruitment of Skilled and unskilled labour compared to three months ago, factors limiting expansion of business activities, business expectation of loan interest rates and amount of new investments by businesses in next twelve months, business experience with government in the past year and what businesses perceive it will be in the new year and the impact of rising cost of fuel on business and business viewpoint of the current mitigation action by government to reduce cost of fuel.
Majority of survey respondents are small businesses employing 1-9 employees (44%), followed by Small Medium businesses employing 20-49 employees (18%), large businesses employing more than 100 employees (16%) and SMEs employing 10-19 employees (13%).
"Data shows that it is proving difficult to recruit skilled/specialist labour (53%) compared to 3 months ago, 37% believe it to be the same while 7% agree that is easier. When compared with Unskilled labour 40% of survey respondents believe it to be the same, 38% believe it to be easier, while 11% believe it to be harder than it was 3 months ago," the Survey reported.
"Results indicate Finance (49%) as the main factor limiting business' ability to expand activities, followed by capacity (19%), supplies (15%), Demand (12%), and labour (5%)," the Survey added.
Meanwhile, the Survey reported that business experience with government in the next twelve months will remain the same as reported by 40%, 36% believe it will improve while 24% report business experience will worsen.
"Increased electricity costs (37%) have indicated to be a main impact of rising fuel costs on business in the past 6 months followed by Increased logistics (31%), Increased raw material/goods costs (22%), and increase in other costs such as direct operational costs, food costs, increased duty on products brought into the country, logistics and increase in imported materials as reported by 7%.
"Results show that 42% are moderately confident that there will be any changes to the impact of rising of fuel cost on business in the next 6 months, 36% reported low confidence, 13% reported 13% and 9% reported no confidence.
"Results also indicated that majority (48%) of survey respondents have low confidence that there will be a reduction of costs in the next 6 months while 40% are moderately confident. 13% are reported to have no confidence of this," the Survey reported.
SICCI has conducted the Business Confidence Survey annually since 2017.
SICCI Membership and Services Officer, Ms. Simaema Neilsen, who takes lead in conducting Chamber surveys, said this exercise is a pulse-test to identify the level of business confidence perceived by participating members from within the Chamber's diverse membership.
The survey identifies trends and conditions in the private sector. Increased business confidence is an indicator of economic growth, associated with increased spending and more economic activity. On the other hand, a decrease in business confidence may indicate a slowing of the economy.
"The data gathered enables the Chamber to consolidate business experience that informs how it progresses issues with Government. The outlook for business, also informs the wider private sector and partners to Government, of the standing of the economy as a whole," Ms. Neilsen said.
Solomon Islands Chamber of Commerce & Industry
1st Floor, Suite 213, Hyundai Mall,
Central Honiara,
P.O.Box 650,
Honiara,
Solomon Islands
T: (+677) 39542
T: (+677) 39543
F: (+677) 39544
E: services@solomonchamber.com.sb