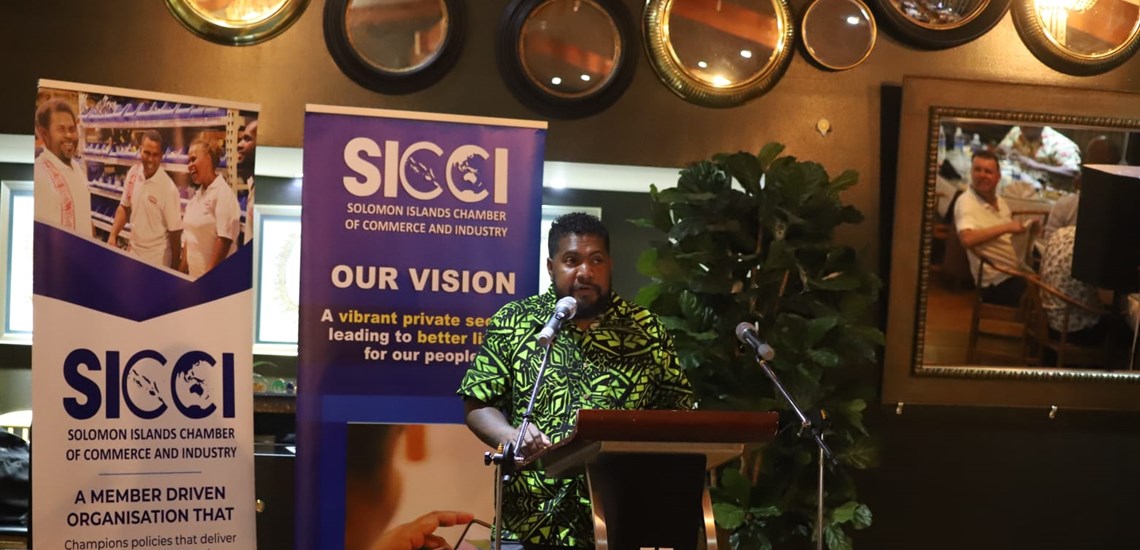 The Solomon Islands Chamber of Commerce and Industry (SICCI) acknowledges its sponsors and supporters for their continuous support towards the work the Chamber does in representing the private sector in Solomon Islands.
SICCI Board Chairman, Mr Ricky Fuo'o made the acknowledgement during the Chamber's annual sponsors dinner on Friday 2 December 2022 with all our SICCI supporters to formally thank them for your immense support throughout this year.
Mr. Fuo'o acknowledged the Chamber's Platinum and Gold annual sponsors, key development partners, sponsors of SICCI's two key highlight events the Business Excellence Awards and Infrastructure Symposium, sponsors for the flagship training the Directorship Programme and other training activities including advocacy events and the 2022 Business Vaccine Campaign.
"Without your support, the plans, activities, and operations of SICCI in 2022 and 2022 will not be possible.
"Without your support the voice of the private sector and businesses would not been able to elevate to other levels across sectors, both nationally and regionally," he said.
Mr Fuo'o reiterated that the Chamber's vision remains which is to grow a vibrant private sector-carrying the economy and jobs of this country and with the support of sponsors, either financial and in-kind, continues to make that vision brighter and clearer every day.
"The private sector is a credible partner for development and business growth is crucial to investments, and economic growth. While there is still a lot of work to do to create a conducive environment for doing business, opportunities, and platforms to raise and change policies that can reduce barriers are now within our reach," the SICCI Chairman said.
SICCI has grown to around 220 members end of last year 2022, with a reputation as a growing local organisation that speaks with one voice for private sector but also growing a business community that genuinely wants to contribute to the development of Solomon Islands.
"Our presence and outreach both online and on ground engagements continues to grow- providing opportunities for our members, and for our key advocacy messages.
"It is crucial we maintain this drive, as we come out of the pandemic, SICCI continues to seek your invaluable sponsorship and support as we reach the last year of SICCI Strategic Plan 2019- 2023," Mr Fuo'o said.
Mr Fuo'o also used the event to announce two major events SICCI is looking forward to for 2023. These are the Business Excellence Awards (BEA) along with two key events, the Manufacturing Policy Symposium and the Australian Solomon Islands Business Forum in Brisbane which is reactivated after two years.
"Our flagship events like the Directorship programs and other trainings, networking events, advocacy through MoUs, communications platform, are becoming annual activities for SICCI and that will continue.
"The SICCI secretariate remains as it continues to grow in confidence and skills as a professional team," he said.
"The values SICCI share- "Excellence, Partnership, Innovation, Creativity, Integrity" remains important now more than ever, as we will navigate another big year in 2023 and 202 and I know that we will not go alone, but with all of you, our supporters," SICCI Board Chairman, Mr. Fuo'o, said.
Solomon Islands Chamber of Commerce & Industry
1st Floor, Suite 213, Hyundai Mall,
Central Honiara,
P.O.Box 650,
Honiara,
Solomon Islands
T: (+677) 39542
T: (+677) 39543
F: (+677) 39544
E: services@solomonchamber.com.sb