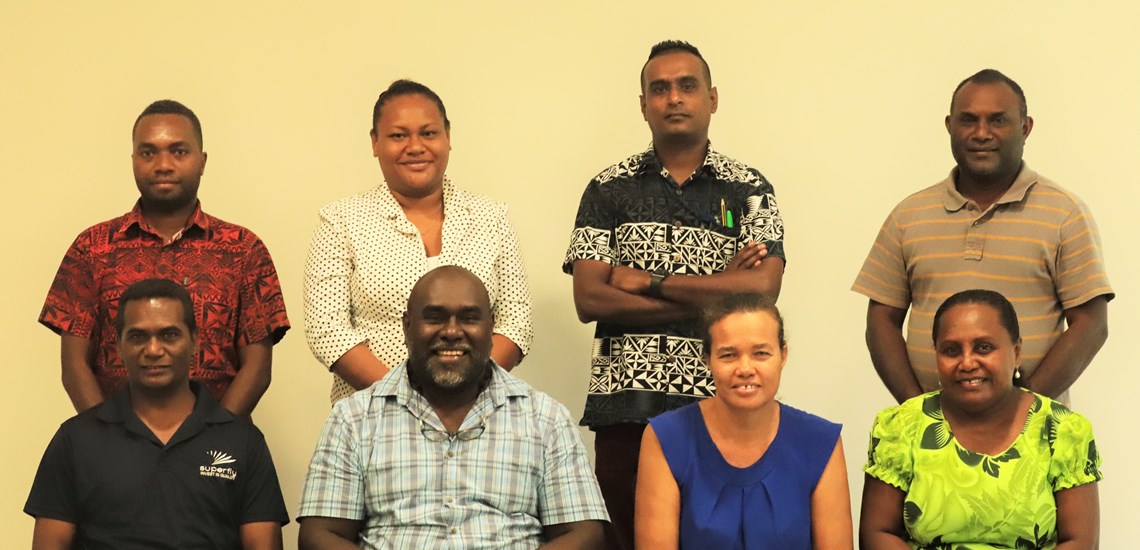 Front (Left-Right): Tapera Bird, Superfly, Manager; Dr Lazaraus Tavichikai, Ecall Health Centre Manager; Diana Yates, Cathliro, Manager; Joyce Lelau, SIPDTS, Manager. Back (Left-Right): Elvis Bwaa, SICCI Advocacy Officer; Namoi Kaluae, Adkonect, Manager; Vikash Chand, Island Upholstery, Manager; Doni Kelly, Jedom Organic Fruits, Manager.
Wednesday 28 September, Honiara – The Solomon Islands Chamber of Commerce and Industry (SICCI) has established a Small, Medium Enterprise Working Group (SMEWG) that aims to provide a platform for informed expert discussions and one that will focus on areas of concern for Small Medium Enterprises (SMEs).
SICCI called a first meeting for the SMEWG on Friday 23 September 2022 at the Heritage Park Hotel where SICCI Board, Dr Lazarus Tavichikai was selected by majority votes as Chairman of the new working group through to 2023.
Attendees were SME representatives, SICCI members and members of the SICCI Board and Secretariat.
SICCI Vice Chair Lady, Ms Qila Tuhanuku gave an overview of the SMEWG while the meeting also heard updates on the proposed SME Bill and there were also general discussions on key areas affecting SMEs and the actions SICCI can take to better advocate for solutions.
Ms Tuhanuku said the main object of the SMEWG is to have a representation of SME stakeholders from SICCI's membership who will bring SME specific expertise and insights into what is critical to creating a growth enabling environment for their type of businesses.
"This expert group will be a resource for Government and partners in development to draw on when advancing and implementing policies impacting on SMEs in Solomon Islands.  
"The subcommittees are to establish partnerships with relevant SME stakeholders including but not limited to Board, Government Departments and other domestic, regional and international groups as agreed to with the intent of improving the business environment for SMEs in Solomon Islands whilst not compromising on quality and compliance," the SICCI Vice Chair Lady said.
SICCI Advocacy Officer, Elvis Bwa'a, who is also Secretary to the SMEWG, provided members with an update on the proposed SME Bill which a draft is currently with the Ministry of Commerce, Industry, Labour, and Immigration (MCILI) and has just been progressed in July 2022.
Some of the issues affecting SMEs in the country that was highlighted during this initial meeting included tax obligations, the need for a level playing field when it comes to exemptions and incentives as compared to some foreign investors, cost of electricity and rental.
"Members are looking forward to raise issues when the SME Bill is out for wider consultations to ensure that the Bill addresses the needs of SMEs," SICCI Advocacy Officer, Mr Bwa'a, said.
He said an outcome from the meeting is to organize a roundtable with the Ministry of Commerce, Industry, Labour, and Immigration (MCILI) to get an update from Government's support towards SMEs and an update on the SME Bill.
Additionally, members will decide on top three priorities that will be critical for SME operations in light of the rising fuel and operational costs, to focus on from 2022 through to 2023. SMEWG will be holding its meetings once a month.
The Solomon Islands Chamber of Commerce and Industry (SICCI) is the peak representative organisation for the private sector in Solomon Islands.
SICCI currently has over 200 members as well as a number of affiliations from other national private sector organisations, covering approximately 80 percent of the Solomon Islands private sector workforce. Sixty (60) percent of the SICCI membership is made up of Small Medium Enterprises employing less than 20 employees.
SICCI continues to be a strong advocate of private sector interests – for both small and large companies alike – and aims to work constructively with the government, the Solomon Islands community and international donor organisations.
-SICCI Media
Solomon Islands Chamber of Commerce & Industry
1st Floor, Suite 213, Hyundai Mall,
Central Honiara,
P.O.Box 650,
Honiara,
Solomon Islands
T: (+677) 39542
T: (+677) 39543
F: (+677) 39544
E: services@solomonchamber.com.sb